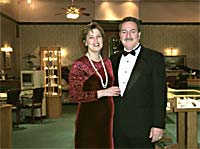 Owners Lowell Daniels and Jenny Oaks have moved their highly successful fine jewelry business from the gold country of Sutter Creek where it had flourished for 18 years. On a trip to Humboldt County, they encountered the enchanting village of Ferndale and the historic Victorian Inn. They immediately fell in love with the area and purchased the Russ Building in January 1999.
The store is named after Lowell's grandfather, Joseph Rose Silva, born in the Portuguese Azore Islands. Lowell's grandfather emigrated to California and although born here, Lowell treasures his Portuguese heritage. An original portrait of his grandfather overlooks the beautiful settings of the store.
Lowell is a graduate gemologist and a certified gemologist appraiser. He has spent several years obtaining his formal education from the Gemological Institute of America. He holds the highest title achievable in the jewelry industry, that of Certified Gemologist Appraiser, from the American Gem Society (AGS). He has a large following of regular clients from across the U.S. and Europe. Lowell's buying trips throughout the the world have allowed him to collect a selection of rare gemstones, unique original designs and many, many friends and fans over the years. Because the couple does not buy from factories or sales representatives, their costs are far below market average, hence their large client following.
Jenny is also a student of gemology and her style, insight and grace make selecting a special piece of jewelry a memorable experience. The store specializes in custom designs and repairs and features one of the few Computer-Aided Jewelry Design systems in Northern California. It takes only moments with Lowell or Jenny to design, graphically visualize, then print a photograph of a specially created piece.
The jewelry business at this level is a creative, rather romantic endeavor. It's a labor of love where customers become friends. Lowell and Jenny feel blessed to become part of the romance in peoples lives, a part of their celebrations.
---
Home - Masonic - Gold Quartz - Ferndale - The Store - The Owners - Our Jewelry - Our Services - Fine Art - Links
---
Silva's Fine Jewelry - 400 Ocean Avenue, Ferndale, CA 95536
Phone: (707) 786-4425 - Toll Free: (888) 589-1011
E-mail: gems@silvasjewelry.com