Antique Gaming Chips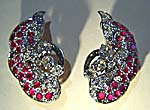 Ruby, Diamond & Platinum Ear Clips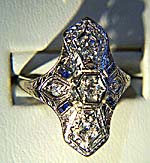 Filigree Ring With Diamonds & Sapphires
One of the most interesting facets of our business is the seeking, buying and selling of Estate Jewelry. These are pieces of jewelry which were created decades or centuries ago for very discerning clients. They are of an era when fine craftsmanship and skill was the norm, rather than the exception. Many of them have interesting stories to tell, and all of them are here awaiting their turn at being part of new stories... perhaps yours!

Some pieces combine the old and the new, as is the case with our Antique Gaming Chip Jewelry (pictured). These are gaming markers from China, carved in Mother of Pearl, and all are from 150 to 250 years old (Ching Dynasty).

We never know what we'll have on hand at any given time, because we can't recreate or simply "order" these precious items. We just have to wait until our searching turns them up. Only then can we can add them to our displays and find them new homes.

We also buy used jewelry! Convert your un-used, old or broken jewelry into cash!

Citrine Ring

Cameo Ring